Blog
Dispatches from the Ground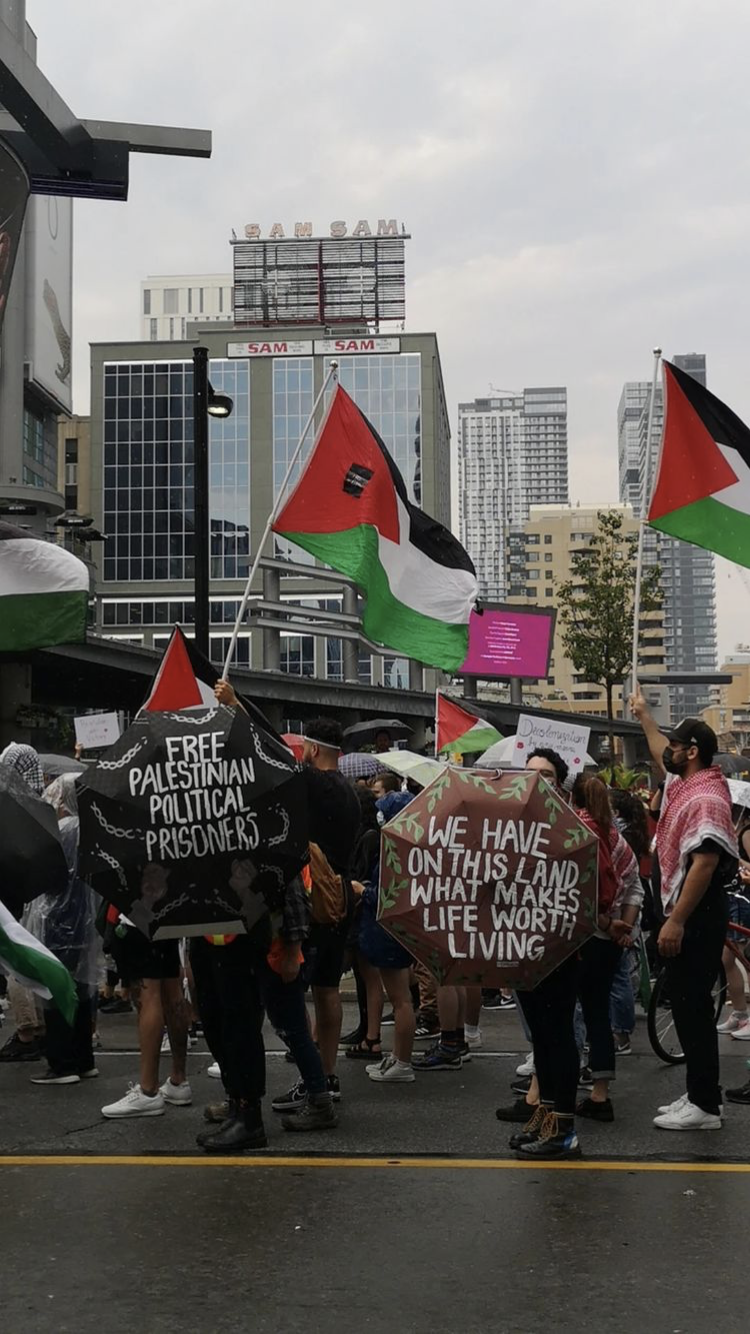 When: August 7, 2021

Where: Dundas Square, Toronto

What: An interview with Rawan Nabil at the #MakeNoiseforJerusalem Rally

Tell us a little about yourself, your group, and the event on Saturday, August 7, 2021 at Dundas Square in Toronto.

My name is Rawan Nabil. I'm part of an international, independent grassroots organization called the Palestinian Youth Movement, and we are dedicated to the liberation of our homeland and our people. We work within the diaspora and our aim is to revive a tradition of pluralistic commitment towards Palestinian liberation. Importantly, our group is not only dedicated to Palestinian liberation but to collective liberation, particularly to Black, Indigenous, and Global South liberation. We operate through a joint struggle and joint resistance lens that offers more than transactional solidarity. Rather, we work alongside Black, Indigenous and comrades of colour that are continuously resisting oppressive structures and systems.

Our event on August 7, 2021 was a response to a call to action from Mohammad El-Kurd, a Palestinian activist and poet, in which he called on August to be a month of action. On August 2, the Israeli settler state ordered a hearing for the dispossession of 4 Palestinian families, which included that of El-Kurd's family. Moreover, the village of Silwan has also been under threat, where the Israeli state is forcing Palestinians to demolish their own homes. If they do not comply, they are forced to pay fees, and their homes will be demolished regardless. There have also been plans to expel families in Batn al-Hawa. Our hashtag #MakeNoiseForJeruslalem was created to not only raise awareness, but also shut down the streets of Toronto in an attempt to halt economic activities to get our demands across.

What were your political goals for the demo? How did it go?

Our demands are somewhat broad and they are relatively similar with most of our actions. Of course, this action was focused on Jerusalem. However, our goals are to halt the expulsion and dispossession of Palestinian families in occupied Jerusalem and all of historic Palestine. Another set of demands is to call on the Canadian state to sanction Israel. Of course, we know that one settler colony is not going to realistically sanction another settler colony. This demand is more of an international push to sanction Israel in general. An important demand that we wanted to center at this action was the release of all Palestinian political prisoners, especially in the wake of the death of Suha Jarrar, who is the daughter of Palestinian political prisoner, Khalida Jarrar. Khalida Jarrar has an international campaign for her release and upon the passing of her daughter, there were calls to release her so she could attend her daughter's funeral and of course, she was not released during such an important time. We wanted to center the passing of Suha and the campaign to free Khalida, as part of our larger demand to free all political prisoners from Israeli jails.

We also wanted to center the ongoing housing crisis in Tkaronto where city police are violently displacing predominantly Black and Indigenous houseless folks in encampments. We see this ongoing dispossession as an extension of settler colonialism on Turtle Island and we wanted to ensure that folks attending our action were cognizant of the reality of the Canadian state and to support the encampments however they could.

I think the event went extremely well. We ended up shutting down one side of Yonge and Dundas, a major intersection in Toronto. I think that we had incredible and diverse speakers and performers that held so much knowledge and talent and I think our attendees were appreciative of the different demands and knowledge that the speakers passed along.

What are some of the political challenges in hosting an event like this?

Safety is always a political challenge, especially when we have an understanding that we keep us safe, as opposed to ever co-operating with the police. I think our challenge for this rally was to ensure that everyone was feeling safe enough to block the intersection and we had enough marshals and legal observers to pull something like this off. It's always a priority for us to ensure that marshals that keep us safe are reliable and trusted community members. This is a huge part of our work, especially because we want to ensure that our community understands the role of the police as state actors that only reinforce settler colonialism and violence.

What are some guiding political principles that underlie your work?

Our work is anti-capitalist, anti-colonial, and community-oriented. We ensure that our political principles are in line with our politics as an organization that is committed to decolonization and collective liberation. As mentioned, we work within a joint struggle framework which means that we engage in solidarity that goes beyond transactional or coalitional work. We work with, rather than for movements. Moreover, our work is rooted in national struggle and liberation, which is the baseline of all the rallies and events that we hold. We are rooted in our right of return to our homeland and that is something that we continuously demand in all our actions, statements, and joint struggle engagements. One of our most important guiding principles is the freedom of all political prisoners, whether they are Palestinian, Black, Filipino, Indigenous, etc. Our politics are rooted in an abolitionist lens that demands the freedom of prisoners and the abolition of jails and prisons that are an extension of neoliberal hyper-surveillance and capitalist exploitation. Lastly, one of our most important guiding principles is anti-imperialism, particularly our understanding of US imperialism being at the root of so many violences, in Palestine and across the Global South.

How does solidarity and movement building play out in these events?

As I mentioned above, we work within a joint struggle framework. For instance, when we invite Indigenous drummers to preform, we are building community with individuals, but we also see this as part of a larger joint struggle commitment as Palestinians on stolen Indigenous lands and finding ways to honour and respect that consistently. We also ensure that our speakers are not only Palestinian or Arab but speakers that address a myriad of ongoing realities that are impacting Black, Indigenous, and People of Color. Moreover, as I've addressed above, having marshals that keep folks safe is a major part of our events and so we have folks who constantly show up for us, in the same ways that we constantly show up for them. I think a big part of solidarity building is consistency and staying true to the politic that you uphold. We've seen a lot of solidarity within movements this summer and last summer and seeing the same faces show up each time is a key to how we build momentum in all of our movements.

Who were some of the speakers and what did they have to say?

We had six speakers who were all addressing diverse and critical political positions that relate to Palestine or Palestinian solidarity. Our first speaker was the brilliant Rabbi David Mivisair who is a strong ally and knowledge holder in the Palestinian struggle. Rabbi Mivisair spoke on his work engaging in co-resistance within the movement, as well as his work with Independent Jewish Voices and Jewish Voice for Peace in the U.S. Our second speaker was the wonderfully talented storyteller, Sarah Abu Sharar, who recited a story about her father and her family's experience of the Nakba. She is a Palestinian storyteller in North America and her work revolves around the preservation of traditional Palestinian oral history. Our third speaker, Dalia Eidda, addressed the murder of Nizar Banat by the Palestinian Authority and reinforced our stance against the Palestinian Authority (PA) as any kind of legitimate government. Importantly, Dalia spoke of our understanding of the PA being merely an extension of Zionist settler colonialism, which is part of our larger analysis on the kinds of neoliberal governments that we reject when we envision a liberated Palestine. Our fourth speaker was Yaimi, a Cuban organizer in the city, and she addressed the crowd with a wonderful speech on the solidarity that has existed and continues to exist between Cuban and Palestinian revolutionaries. Yaimi's speech was particularly important in highlighting the joint struggle aspects that continues to inform our work. Our next joint struggle speaker was the incredible Rosie from Anakbayan, which is an organization we deeply respect and hold dear to our movement. Rosie spoke of the realities of US imperialism in the Philippines, the land grabs and the rejection of imperialism across borders. Rosie ended off with an incredible chant: Imperialismo ibagsak which translates to overthrow imperialism and I think that chant really resonated with the attendees. Our last speaker, Issam Alyamani, is a respected knowledge keeper, teacher, and long-time community organizer that spoke on Palestinian political prisoners. Issam is a major inspiration to the Palestinian youth in Tkaronto as he is constantly drawing on past experiences on how to navigate Zionist intimidation and move towards envisioning a liberated Palestine.

What is the political significance of this moment in the Palestinian Liberation movement?

This moment is particularly significant because although we have seen a lot of momentum and solidarity build up in the last couple of years, I feel like this moment will be a moment where people will remain steadfast and consistent in their organizing. I think we've seen moments like this come and go; however, this moment is different because of social media and our ability to shift the narrative around what mainstream media has consistently referred to as a 'conflict.' I think more and more people are understanding Zionism as racism, and that Israel is a settler colonial state. I think more people are starting to back Palestinian resistance more than ever before and understand the implications of Zionism as a violent movement that only serves to uphold white supremacy and apartheid. Although there is a lot of misinformation and problematic takes on social media, it is still a space for us as Palestinians to seize this moment to politically educate people on our struggle and the importance of Palestinian liberation. Importantly, in my opinion, this moment would not have been as impactful if it were not for Black movements across the border, as well as here in Canada, that paved the way for other movements to be backed in similar ways. We saw a surge of Black actions that addressed police brutality and violence in the US and elsewhere and we also saw calls to defund the police and abolish the prison industrial complex. These actions and rallies did not come and go. In fact, they are the reason that so many different movements have had so much support since last summer because Black movements built those foundational joint struggle understandings that we have today, especially in the diaspora.

What are some upcoming events or ongoing campaigns surrounding Silwan?

Currently, we are working on more educational pieces that allow our volunteers, attendees and larger community to attend. We want to ensure that our community knows why they need to keep showing up and how to engage in discourse moving forward. These educational programs are not only surrounding Silwan; they address a multitude of different topics; in particular, political prisoners, which is not discussed as much as it should be within our movement. Moreover, we are working on campaigns such as VotePalestine which is a campaign that hopes to galvanize votes to raise the issue of Palestinian human rights in Canada's upcoming federal election. Lastly, our hope is that we continue to organize rallies and events that allow us to keep up the momentum, but also have political educational tools for our community that build on joint struggle and larger political questions that we all have to contend with when we envision liberation and our right to return to our homelands.