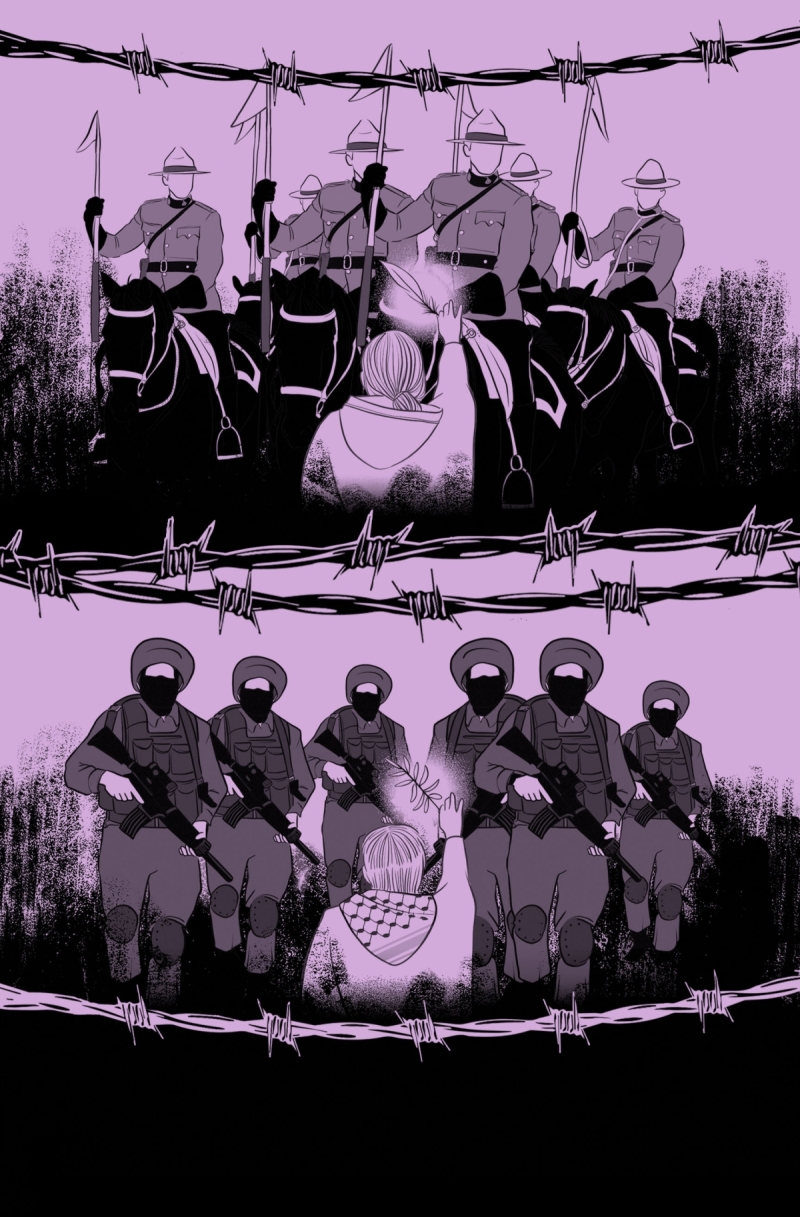 It has been another year since we last met, dear readers. The global COVID-19 pandemic continues apace, aided by vaccine nationalism and the impossibility for capitalist accumulation to stop for even a second—in this case to pause patents and the deepening of Big Pharma's coffers. The people are left bewildered and adrift in the absence of the most basic of health and social welfare. At the same time, billionaires blast themselves off into space while the world burns. It's hard not to feel rage and grief in equal measure.
We also continue to witness the rise of the far-right across the globe. As we write this, Hungary's Victor Orbán has secured another term. Here in Canada, we saw the culmination of simmering far-right sentiment, under the banner of "freedom," in the form of the trucker convoy. Surprising many liberal and mainstream spectators, it came as no shock to leftist movements: the convoy symbolizes a resurgence of the far-right that has been fomenting for several years in this part of Turtle Island. Alongside comrades at Alberta Advantage, Briarpatch, and Midnight Sun, Upping the Anti cohosted a two-part event in the spring of 2022, titled "After the Convoy: Confronting the Far Right in Canada." On April 9th and May 7th respectively, our panelists discussed: the historical context for the rise of fascist movements on Turtle Island, how to make sense of, and challenge this (in the context of decolonial and anti-imperial organizing), as well as the connections between the pandemic, disability, and racism. We encourage readers to watch the discussions on our YouTube channel. For many, the convoy also crystallized the role of the police and policing apparatus in protecting the far-right and maintaining the stronghold of the ruling classes. It is with this firmly in our minds that we write our editorial, "The Same That Burn Crosses" which explores why an abolitionist politic is a necessary facet of international communism. We see how policing is vital to the expansion of imperialism, fascism, and authoritarian rule, as well as why the call for increased state policing undermines us all.
As the trucker convoy ended, the invasion of Ukraine began. Putin and his inner circle continue to destroy Ukrainian homes, villages, and cities. We grieve with our siblings and comrades in Ukraine, facing the merciless ambition of authoritarian rulers and those who profit from war. We also continue to grieve with our siblings and comrades in Yemen, Palestine, Syria, Afghanistan, and many other places across the globe that live daily under the horrors of war, imperialism, and so-called US democracy. We wish for all peoples the ability to exercise self-determination and sovereignty, from Ukraine to Palestine to Turtle Island.
This is a time for grieving. Indigenous peoples continue to face the traumas inflicted by the ongoing 500-year settler colonial assault on their lands and relations. Over this last year, many have been dealing with the pain of uncovering the unmarked graves of children taken from their families and communities to residential schools, including Tk'emlúps te Secwépemc and Williams Lake First Nations.
Still, Indigenous activists continue to push back against the colonial machine in many ways. Recently, Toronto Metropolitan University in Canada was forced to change its name due to its ties to Egerton Ryerson, the architect of Canadian residential schools. A statue of Ryerson outside the university was also brought down, joining the list of toppled colonial statues across the world. Wet'suwet'en land defenders keep fighting in the face of continued assault on their sovereignty, colonial capitalist property regimes, and extractive expropriation. It is within this context that Upping the Anti hosted an online reading group during the fall of 2021 and early winter of 2022 focussing on Leanne Betasamsoke Simpson's As We Have Always Done, to learn together about anti-capitalism and Indigenous resurgence.
In this issue, our letters section begins with a piece by Kata Bohus. Bohus, responding to Beauduin and Swerdlyk's article in Issue 22, shares her lessons learned from the recent election in Hungary and reflects on where the Left might go next. Next, Jacob Laba argues why nonhumans are central to the fight for liberation. Leslie Solomonian responds to S. Awâsis' piece on the existence and possibilities of anarchism within Indigenous political thought and practice. Solomonian reflects on the possibilities for organizing that can occur when anarchism, understood in tandem with Indigenous practice, can offer a counter to white supremacy and offer a vision of decoloniality by centring relationship-building and relationality. Paulina Posadas Benuto, responds to our Issue 22 interview with Yásnaya Elena A. Gil. Posadas argues that we need to think more about terms that broaden and define self-determination from the perspective of multiple communities, while reflecting on the cultural and state-imposed meaning of "Indigenous."
We honour and remember the work and legacy of two inimitable thinkers in this issue: Lee Maracle and Dorothy Smith. In two pieces in memory of Lee Maracle, Glen Coulthard and Riley Yesno poignantly share how Maracle's influence continues to shape their own thinking and political work, as well as that of generation after generation of writers, activists, and artists. Himani Bannerji reflects on the legacy of Dorothy Smith and, crucially, how Smith's work is of great value to activists who want to get closer to understanding what actually happens in the everyday life of people and how we can use this knowledge to build a better future.
We kick off our interviews section with "To Centre Indigenous Knowledge." Lana Goldberg interviews Eriel Tchekwie Deranger, co-founder and Executive Director of Indigenous Climate Action—Canada's only Indigenous-led climate justice organization. Deranger reflects on the birth, growth, and decolonial approach of Indigenous Climate Action within the context of the current struggles against climate devastation. Sharmeen Khan interviews Sam Salour from the Marxist Education Project to discuss why reading Capital is important for activists. In "Revolutionary Horizons and the Role of Theory," Salour inspires readers and organizers with how Marx's Capital offers lasting education and theory to fight the violence of waged labour. Lastly, in "Shut Down the War Machine," Sakura Saunders interviews Rachel Small from World Beyond War and Simon Black from Labour Against the Arms Trade to discuss contemporary anti-war organizing in Canada. Together, they discuss Canada's role in war profiteering, the legacies of previous anti-war organizing, current direct action strategies, and the importance of the labour movement in challenging imperialism.
We are thrilled to present to you a comic strip this issue on Palestinian liberation from prisons, surveillance, and apartheid—all part and parcel of the brutal colonial Israeli state apparatus. Writer Yazan Al-Saadi and artist Sirène Moukheiber are the creators of "From Palestine to Turtle Island: The Caged Bird Sings of Freedom." Inspired by the recent escape of six Palestinian prisoners from Israeli jails as well as the united global uprisings in May 2021, the creators illustrate a brief history of colonization, land theft, and imprisonment, reflect on the work of activist Khalida Jarrar, and highlight the violence of the Israeli and Canadian carceral systems. As such, this comic clearly displays the parallels between the Canadian and Israeli state and how the fight for liberation in Palestine is mirrored in Turtle Island. We encourage readers to also read our Palestine roundtable collaboration with Kashmir Gulposh. You can find this transcribed on our blog.
We continue the issue with our articles section. Kicking us off is "Cultivating a Long View" by Chris Dixon. Dixon discusses the importance of developing a "long view" of social movement organizing. Major changes to the conditions of our lives don't happen overnight but are the result of decades of organizing on the ground. As such, Dixon urges lefitst organizers to invest in long-term visioning while building upon generations of social movement organizing that has laid the groundwork for making another world possible. Jennie Long, in "'Pockets of Resistance' in Padova," discusses communist organizing in the northern Italian city of Padova. There, organizers of la Casa del Popolo provide a refreshing example of solidarity, activism, and mutual aid offered to fellow comrades and migrants, from food markets, to legal aid clinics, to housing and shelter. We end our articles section with "Feeding Toronto." Isabel Armiento discusses the contemporary contradictions of the "sharing economy" and the impact of major technology corporations on the food industry. Armiento juxtaposes the rise of the food app with the apparent decline in food co-ops in the city, arguing that a socially just future requires fundamentally shifting how we value our food systems—away from alienating apps and towards collective practice.
We have two roundtables for you in this issue. In the first, "Building an Abolitionist Ethic," Karl Gardner talks with four members of the Toronto Prisoners' Rights Project (TPRP) as they collectively reflect on their work during the pandemic, and the importance of abolition as an organizing principle. In our second roundtable, "Unit 2 is Our Home," Darian Razdar sat with Rosina Kazi, Nicholas Murray, Brawk Hessel, and Max ZB. Together, participants reflect on the vital role that Unit 2 has played in Toronto's QTBIPOC communities and movements. They discuss the history of Unit 2 as a venue, living space, community hub, and recording studio, as well as the work of the Unit 2 collective in transformative justice, queer, and abolitionist struggles. This piece is especially near and dear to our hearts because of our long relationship with Unit 2 and the many wonderful memories we as editors have shared with our writers, readers, and supporters during many Upping the Anti launch parties (remember when those were a thing) in the amazing Unit 2.
We close our issue with three thought-provoking book reviews. Kate Klein reviews Andreas Malm's How to Blow up a Pipeline. Klein assesses Malm's work, which questions the climate movement's commitment to strategic pacifism in the face of multiple climate crises. Next, Ian Liujia Tian reviews Bogdan Popa's De-centering Queer Theory: Communist Sexuality in the Flow During and After the Cold War. In "Queer Eye for a Commie Person," Tian discusses why Popa's argument to decentre queer liberation and sexuality from the realm of queer theory is important to activists everywhere, not just in Eastern Europe. Tian also explains the importance of understanding queer socialism in Left liberation movements. Finally, Élise Thorburn reviews Samir Shaheen-Hussain's Fighting for a Hand to Hold: Confronting Medical Colonialism Against Indigenous Children in Canada. Thorburn describes Shaheen-Hussain's successful campaign to end the medical practice of separating sick children and young people from their caregivers when flying from remote parts of Northern Québec to southern care centres for treatment. As Thorburn notes, the campaign also sets the stage for Shaheen-Hussain to place this practice within the broader context of a colonial and unjust medical system.
As multiple demands continue to compound on people's time and resources we are immensely grateful to our contributors and participants for taking the time to share their insights, knowledge, and experience. We're thrilled to be able to share them with you, dear reader. We are also thrilled to be able to pay all our writers and contributors for this issue, thanks to a generous grant from the Indigenous Education Network to our writers' fund—thanks IEN! Gratitude must also go to our advisory board, and we are excited to welcome Chrys Papaioannou, Jennie Long, Natalie Kivell, and Leslie Solomonian. We also welcome Anita Castelino to the editorial collective. Sara Swerdlyck and Tara Rajabi also join us as associate editors. We would also like to thank Stacey Berquist for copyediting this issue. Lastly, we thank you, dear reader, for your continued support and engagement as you read issue 23 of Upping the Anti.
We would love to hear more from you! Have an idea for an article? Read a book that you want to review? Have some folks you want to gather and talk to as part of a roundtable? Found something interesting or infuriating from one of our pieces and want to write a letter? Send your pitches to uppingtheanti@gmail.com. You can also reach us here if you want to know more about joining our editorial collective, advisory board, or to get involved in other ways. Also, see what we get up to by following us on Facebook, Twitter, Instagram, and our website.
We know times are tough. As a radical print journal, times are getting tougher for us too. We always send free copies to our incarcerated comrades and friends in US prisons. We want to regularly pay our contributors. And we are only able to keep going with support from our subscribers and donations. If you can contribute in either of these ways we encourage you to do so! You can find out how to become a sustainer and subscribe to our journal (we make great gifts) at uppingtheanti.org/subscribe and donations can be made at uppingtheanti.org/donate.
We hope you enjoy Issue 23 as much as we do.
In solidarity,
Anita, Devin, Jasmine, Niloofar, Sable, and Sharmeen